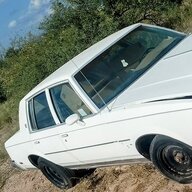 G-Body Guru
Supporting Member
Good to know, I figured the 83/86 would be different... maybe. I have friend with a 78 when I get chance I'll go look.

Good to know reproductions are out there. I don't get into that much myself. Doing a flip or resto-mod it's not much of an issue. Being out here in Tucson area, folks I know in Midwest area are more interested in the rust free sheet metal than the purist stickers.

Yet even when doing body and paint repair, I try to cover and protect all the original decals as much as possible. Yet many are already damaged, seems like the pack-rats like the glue that was used.