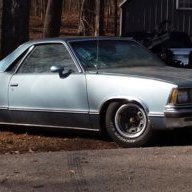 Royal Smart Person
Supporting Member
Watched that episode, it was a good one. I think the point that needs made here is that while i dont think anyone is deliberately dogging you for your idea the customer base for one probably isnt there and the engines themselves are probably at the stage where its just an accident waiting to happen. Ill make some points to these just to elaborate. Again not dogging your idea its good to have people on the forum coming up with things for our cars.

#1 customer base: Without plenty of people to buy the return on investment isnt going to be all that great and as seen here so far most people wouldn't put that much effort into initially stroking an engine that came from the factory as weak in as many areas as these did without doing a full on redo of the engine. The majority of these cars arent in the hands of teens looking to swap in a set of headers anymore, that has moved on to imports, early 2000's Fbodys and others for the most part. So the majority of people looking for upgrades are doing so with a much more "start from scratch" or "non original" point of view.

#2 engine stages: the engines in most of our cars are not stock, and finding an all original example is getting harder and harder to do so the ones that are still stock era correct examples the owners probably wont be interested much in doing a stroker engine. With the price of Jegs and the like being so low on already built stroker engines that throws a wrench in the plan as well. Even if the select few would go to the trouble of doing the modification then the result is getting obvious. They are going to kick the rods right out of that thing, as has been said in earlier post the pistons are outdated, weak, and so are the rods. Add that to 30+ years of fatigue and lord knows what kind of lack of maintenance by Grandma Smith going back and forth to church before the mullet marauder bought it from her to drive daily like Earnhardt on a backroad. So what you are going to have is an owner who now has a "stroker motor" that will not only have high expectations for HP and will be sadly let down by the results but also an owner who now thinks they have a high winding race engine that will be heading for the scrap yard faster then that rod came out of the side of the block. The vast majority of people will either start with a factory roller cam block, bore and stroke it and build it themselves or buy an already built engine from Jegs or the like for a fraction of what it used to cost 10 years ago and throw it in there car and call it a day. IF that car already hasn't had all of this done in the past 30+ years anyway. If your idea truly works it might be best applied to a newer car that is coming into fashion with teens looking for a budget car for school and back, just an idea no hate what so ever.