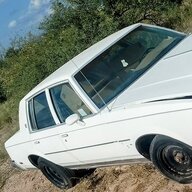 Royal Smart Person
Supporting Member
May 23, 2022
1,032
1
715
113
On normal wear you get about 1 table spoon worth of crud, which is finely ground metal, clutch material and maybe a few pieces of brass or aluminum.

When things come apart you get pieces of..., meaning chunks of aluminum, metal, brass and clutch material. And usually stinks real bad when clutches get burnt.

The way yours sounds I'm thinking maybe the overrun clutch gave out or the pinion bushings on the front or rear planet's. That usually doesn't cause unrepairable damage. Just need to gut it, inspect and replace what is needed.

When you pull the pan just post a picture.