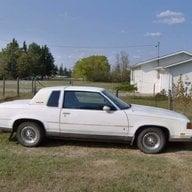 Oct 14, 2008
8,700
7,544
113
I have a question and concern pertaining to putting a 200-4R in my wagon. The engine is a mild SBC 350, stock convertor, running a Q-jet carb. I'm guessing that the Q-jet won't need any type of TV geometry correction arm, even though my '79 wagon never came with a 200-4R stock. I was planning on using the throttle/ TV bracket from a 200-4R equipped V-8 Oldsmobile. Any feedback as to what TV/ throttle bracket is best on a SBC?
Perhaps the throttle bracket from my original 305/ TH 200 would be more suitable? Although I no longer have that bracket.
I assume a 79 model Qjet? The Olds bracket will work with the mid 70's and up Qjet.