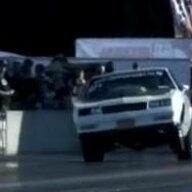 Goat Herder
Supporting Member
Holy crap, it's starting to look like a car again!
Looks fabulous Tony. We single staged a car about 3 years ago, and all I'll add is the final appearance after a proper sanding and buffing was night day with what it looked like immediately after painting. The guy we painted the car for had someone else do the final sanding and buffing. It was a budget deal, but after $500 to a local body guy it looked absolutely amazing. $500 was more than was spent in the paint (3 years ago - probably double for the paint now
)
My MC got painted with the remaining quart of leftover paint. I would've never considered a single stage until I seen the final product.