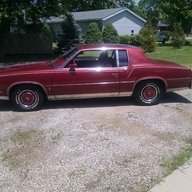 Feb 25, 2011
2,040
203
63
My God, where do they hire these people?

I was finally able to get the title in my name and get tags for my 78 I bought in November. Being it was an out of state purchase, I was required to have the car there with me and with this crazy winter ( aka salt ) Im just now getting this done.

Highlights of my adventure;

1) Being told I had to stand in line X only to then be told I needed to be in line Y after I get to the front. Classic DMV.

2) Lady tells me we need to go outside for her to do the VIN inspection. Shes right behind me yet I'm waiting outside for like 5 minutes before she shows up. When she finally does, she tells me to come back in and pay first.

3) Tells me my VIN is not correct because it didn't have 17 characters. I would expect a worker at the DMV to know older cars had smaller VINs....

4) After getting my milage down I'm now back in line just to discover she wrote down the wrong milage. Was listed as only 874. You see, she wrote down the trip odometer reading.....which was actually 87.4. Really?

5) Wait some more while a different lady now has to go back out to my car to get proper milage only to have her come back and verify the 874 miles is correct. Had to tell her it has 14k and some change. She just says f*ck it and writes down 14k even. Apparently actually milage isn't a big deal....unless they say it is in which case it's of paramount importance.

6) After all that BS it's back in line again so I can get my actual plates. Guy had no idea how to do Historical plates so it took 3 times as long.

7) My receipt says I have a 4 door.
Last edited: