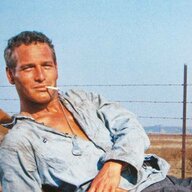 joesregalproject
Comic Book Super Hero
Is it just me or is Facebook creepy as f#cking hell?

I'll preface this by saying I don't have any social media (unless you want to count forums) and I can't stand the idea of it. I think for the majority of people it's all totally in vain and for the companies running it, it's just masking their data collection.

Anyways regardless of what I think, I reluctantly created a FB account because I'm tired of not having access to marketplace. And I only wanted it for marketplace. So I used a burner email, didn't use my full name, gave FB zero permissions, didn't upload any photos or send any friend requests, didn't give it a phone number or any other information other than the bare minimum. It takes a week or so before they approve you to use marketplace, so the week finally goes by, and I start browsing marketplace. On that, I don't know if it's better than craigslist, but it's certainly more active.

Anyways, I go to check out any new listings this evening, and son of a b*tch, I get into the app and all of these friend suggestions pop up of people I know. How the **** did it figure it out? Like my coworkers, people I went to high school with, ex girlfriends, neighbors. What the f#ckkity f#ck is going on?

So yeah, I'm out. Deleting my account. Way too creepy for me. I'll use my Dad's Facebook account if I want to use marketplace.