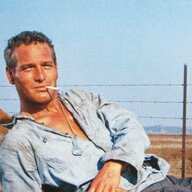 Nov 4, 2012
2,251
789
113
So I got the emergency brake mess all sorted and now functioning properly. Sure enough, I had the e brake cables reversed at the equalizer. So I took the truck for a little drive and brought it back home, and shut it off in the driveway. I went to move it later that day, and the battery was dead. So I jumped it, and it started up, ran for a little, then began to idles rough and eventually stall. The battery had died again.

So I was thinking the alternator might be bad. So I removed the alternator, took it to a local starter/generator shop, and they tested it. He said it was charging within spec, but when he opened the case there was a ton of corrosion and crap inside from sitting. So I had them do a refresh on it. They replaced the brushes, installed new bearings, and cleaned the slip rings on a lathe, and then cleaned it up and painted it. I went home and installed it, and I even took the battery back and exchanged it for a brand-new one just to be sure it wasn't the problem.

Now the truck starts and runs, but the voltage is only reading 12.25 when the truck is running, which is still way low, and the battery warning light is on.

I'm not very savvy with electrical, but I'm guessing bad cables? Maybe someone who is has a better idea?