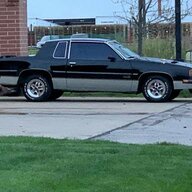 Master Mechanic
Supporting Member
Ok first of all I'm sure I'm going to get some good info so thanks in advance!
My project is a 87 442. I'm installing a built 69 olds 350 but rebuilt the 200r4 to match up with it. I wanted to keep the overdrive. I'm obviously removing the air pump and not keeping the cruise control either because I want my foot in it all the time. Anyway after a conversation with someone who did a similar situation he stated he had to add a TCI kit to get it to lock up because it no longer would have the necessary equipment to recognize when to lock up the converter.
Full honesty I don't know enough about this to know what I don't know but I do know that this group knows so that's why I'm reaching out to get some information and help…. Any information is appreciated and hopefully it also helps others.
Again thanks for your time on this.