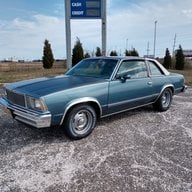 Sep 1, 2018
1,043
1,180
113
The 3.75 first ratio is steep but these are the strongest, 310 ft/lbs rated and easiest to find. I like that the dual pattern BOP bell housing, came specifically behind the Olds V8, thanks to the Ford top loader option, allows it to bolt right on the F body V6 trans. Make sure the input length is right, it may need trimming.
The 2.95 1st gear versions had a higher torque capacity.https://www.moderndriveline.com/shop/transmissions/5-speed-transmissions/t5/ford-t5-5-speed-transmissions/t5-ford/
The BOP manual transmission had the dual gear box pattern as the Pontiacs (maybe Oldsmobile and Buick too?) used a Tremec made 3 speed transmission.
The Ford T5 gear box pattern is different than the early Top Loader pattern.
https://bangshift.com/forum/forum/bangshift/tech-section/2834-ford-transmissions
The Tremec 3550/TKO series uses the old Top Loader pattern.
There are adapters for bolting a T5 to a Top Loader bell housing but you have to watch the input length on the T5 because they do vary.