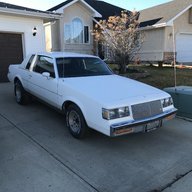 Sloppy McRodbender
Supporting Member
Thread starter
Stop the 'changing of the plan'.
I was kidding about the turbo. Big power is way easier than going fast.
If you can get it to turn a 1000hp time slip, then you'll know the next step. I'm struggling with what I have and that about 4 sizes smaller if turbo.
You are correct, I am not changing anything else, except maybe the diff housing to my QP housing so I can have adjustable lower mount holes.
If I can't properly scare myself with this setup I should probably take up knitting or something.