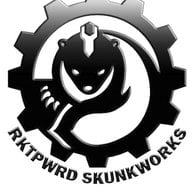 Builder of Cool Shjt
Supporting Member
Hey everyone, welcome to the documentation of Project "Olds Cool", a(nother) 1980 Oldsmobile Cutlass Calais of mine.
First, a little about the name:
In my own quirky way, I have a bit of a soft spot for puns. Everyone thinks they're cheap and low brow humour, but I tend to appreciate the thought and intelligence that goes into a good pun.
I came up with the name "Olds Cool" several years ago out of the blue thinking about the shortened version of Oldsmobile, "Olds".
In case it's not already painfully obvious, "Olds Cool" said quickly sounds like "old school". A perfect reference to the direction and build for this car, not to mention my personal experiences. Being in my mid-forties, I tend to be somewhat "old school" myself!
As many of you are already familiar with on here, my pride and joy (and sometimes the bane of my existence) is another 1980 Olds Cutlass, affectionately referred to as "The Juggernaut".
While the 'Naut has and will continue to be the main focus of my automotive passion for the foreseeable future, after 7 or 8 years of having it off the road and missing out on a large part of the hobby, I was jonesing to get back behind the wheel of a G body again.
Browsing through the local online classifieds one evening, I came across an ad for the car. It was a white 1980 Oldsmobile Cutlass Calais 2 door coupe, and was listed for $1000 CDN obo. The pictures of the car looked remarkably good, so I figured at the very least it beared further investigation for that price.
After contacting and arranging a time to meet the seller, I went to go inspect the car. Not being my first picnic and well aware of the trouble areas on G bodies, I gave it a thorough going over. To be honest, my first impressions were pretty disappointing. While areas like the floor pans and rear framerails were good, the car had been neglected for quite some time.
The car had been poorly repainted at some point in its life, the finish was not only dull and oxidized, but every square in of it was covered in tree sap from being parked in his back yard. The driver's door had the typical sag, the vinyl roof was torn and tattered, the interior was filthy, the carpet faded almost white from the sun, headlights burnt out and so on.
Being an original Calais model tho, the car was extremely well optioned. Buckets, console, rallye pac gauges and steering wheel, air, tilt, cruise, power trunk release etc. The rallye wheels even still had all their trim rings and center caps.
Not wanting to offend the seller by not at least test driving the car, we set out for a spin. Yet more disappointments awaited here. While smooth and reliable during part-throttle cruising, opening of the fours rewarded the me with horrible surging and loud back firing through the carburetor. Hmm. Not good.
Returning to the seller's house, I reluctantly offered him my "best price".
$800, take it or leave it.
I figured I could get at least that back out of it in parts if I had to. Knowing full well that the car needed some work, the seller accepted and the deal was struck. As a bonus however, the seller included a brand new carpet kit still in the box in the trunk. A lovely parting gift I suppose!
Here is the car as it arrived at my garage that afternoon: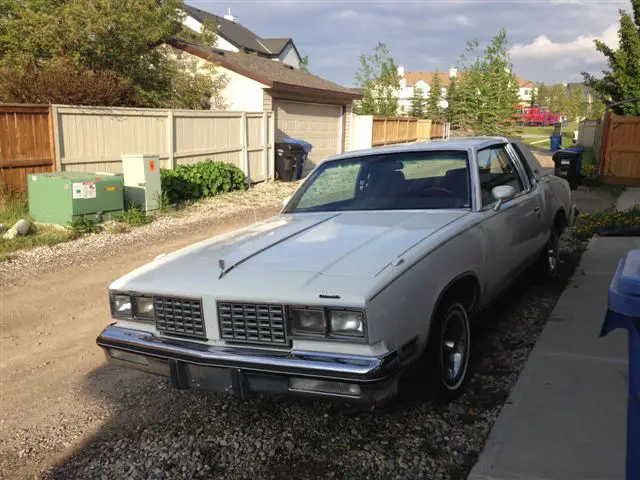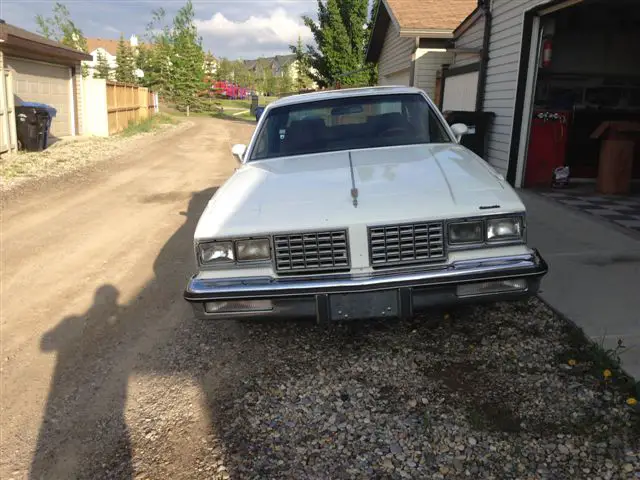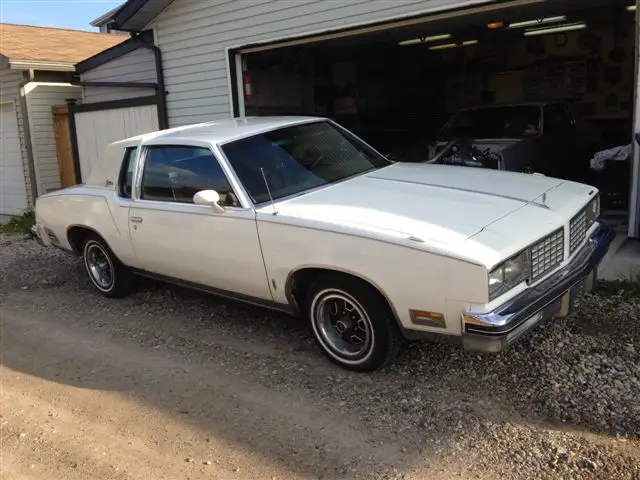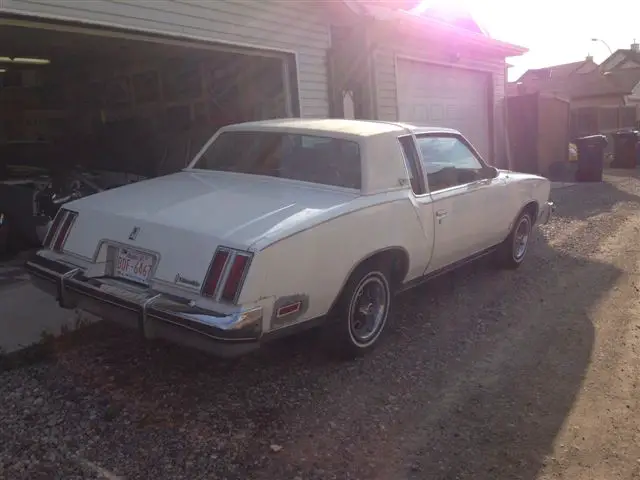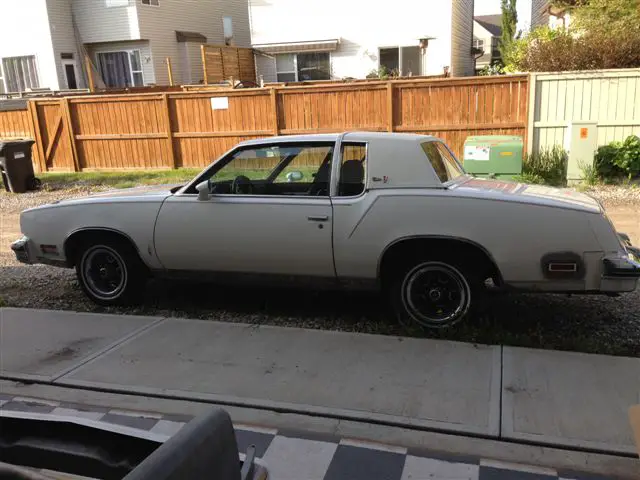 Interior: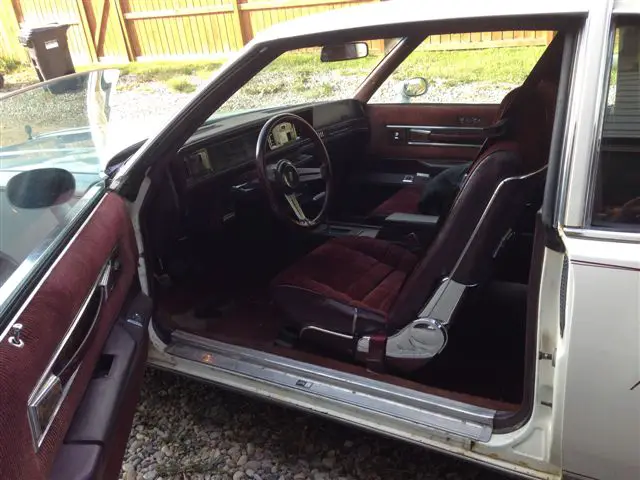 The car pretty much screamed "old man's car", with its white wall tires, cheeseball mudflaps, body side impact strips, and fender mounted cornering lamp option. The car wasn't home 10 minutes, and the mudflaps and impact strips were outta there!
"Hmm. Maybe I can work with this "old man's car vibe" in my favour. This might make a great sleeper...!"
In addition to the somewhat rare fender mounted cornering lamp option, this car also had an Astro Roof, the first factory installed one I had ever seen on a G body. Better yet, it still worked and didn't leak!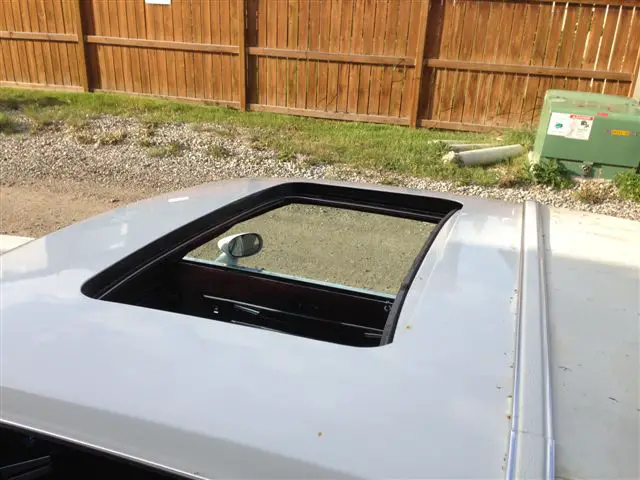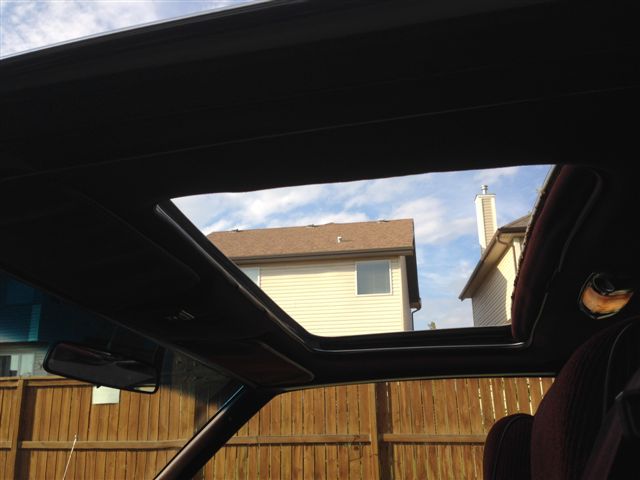 That's it for now guys, to be continued...
Donovan