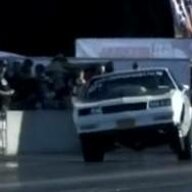 Goat Herder
Supporting Member
Dec 1, 2014
5,530
1
11,705
113
I will upgrade the gears and driveshaft for sure, I'd like to have fun after I'm done swapping the engine and trans...as far as wheel size I'm still debating that...
Don't pick a rear gear until you have a tire size you want.
Will I need to purchase a separate MAP sensor for the intake manifold if the Terminator X has this noted on the overview ?

Terminator X Max features real-time fuel learn, high impedance injector drivers, an integrated 1bar MAP sensor, and 4 programmable inputs and outputs

On-Board 1bar MAP sensor, is perfect for N/A or Nitrous engine combos. If your combination requires a 2+Bar, we recommend GM 12592525, and our adapter part number 558-416.

I want to install the intake and I need to drill a hole for the MAP sensor and I wonder if I will need to if the Terminator has a MAP sensor already.
You've probably figured this out already, but you don't need a separate MP sensor other than the one in the ECU for a non-boosted build.
What add ons are you planning to run? I.E. fans, AC, etc? For a driver, usually 4 ins and outs are plenty.