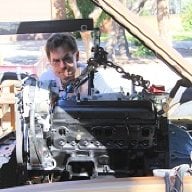 Jul 19, 2009
5,448
6,450
113
Not that it matters much now, but Wheelskins claim to have navy blue that they simply call "blue".

Color chart here:

Custom Leather Steering Wheel Covers for new look. Wide range of custom wheel skins color and sizes to match your needs

wheelskins.com

I think the size is "A", but not sure. But Amazon claims to sell it in blue as well. $50.95, but it is leather. And blue. A tad pricier than most, but from what I understand, it's a decent product.
Thanks for the lead. I suppose that I could re-wrap it. That brand never came up during my searches on Amazon and Ebay last year. 'Blue' looks about right for the Cutlass wheel.
The brand I chose was Belinous Leather car steering wheel cover, lace-up, stitch-on wrap, size M1, black. It laced up perfectly, stretching tightly over the grip features on the back of the wheel. The baseball stitch does a nice job gathering the edges and pulling them under.
I tore one hole, but poked a fresh one next to it. Beeswax on the lacing helped it slip through. The tricky part was lacing around the frame break-outs.
Last edited: