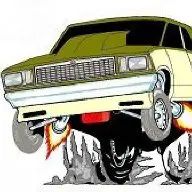 Jul 24, 2009
5,933
7,272
113
Check this 83 Cutlass for sale (link below)....I was trying to find pictures of an 83 Cutlass VIN Y/9 without cruise for another thread about that possible wrong VIN 83 H/O when I stumbled on something else... TURNA can buy the whole car to replace his trunk mat...wonder if this is a Brougham only thing? I do know this, my 84 H/O, both 85 442s (gray one is sold), and my 87 442 all have/had original trunk mats and they were the die cut flat pieces. And the GM replacements I got from the dealer were the flat style as well.
Look at the trunk mat pics. Nice original looking car overall btw, considering.
http://car-from-uk.com/sale.php?id=161140
Why didn't they continue these? And another thing, unless I've missed it somewhere, I can't find any reference to the mat part number in the July 87 Olds parts books.
The mystery deepens....
305 Chevy engine too??