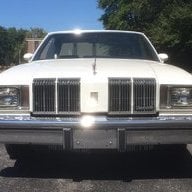 Master Mechanic
Supporting Member
Thanks to CarnutJW for looking out for a fella happened to notice that I was missing center caps for these wheels and hooked me up with a full set.

View attachment 171575 View attachment 171576

got the governor gear changed out and managed to hold myself back from making any mods to the gov assy . replaced the pan and filled it back up and pressures where better than the ones listed in the ATSG handbook got the TV cable where It needs to be and now i just gotta change the oil and the rear shocks, mount the rear swaybar and take it for a drive.
Just trying to make the world a little bit better every day of my life- well, a couple of days a year.