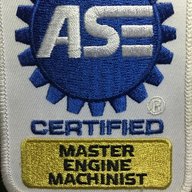 Boglog
Not-quite-so-new-guy
Thought I'd go ahead and get a build thread going....

When I was in HS I had began a project on a 1972 Nova. At the time I didn't know what the heck I was doing, it was pretty much a shell, no engine, no transmission, blah. I went off to college, and was storing the car with a family friend because coincidentally when I left for college my parents also moved very far away and sold my childhood home. I was a sophomore in college (2001) living in an apartment in Seattle when he says "Hey, come pick up your stuff". This was logistically challenging to say the least. Bottom line, I ended up with a project car/engine parts/transmission/ ect with no home or garage and pretty much no $$$ or time to do anything about it.

I can't recall exactly how it all came about but there was a dealership on lake city way and the owner guy (may he rest in peace) kinda took pity on me. Bottom line he traded me the malibu running and in fair shape for the Nova shell and let me keep most of the goodies I had planned on installing saying "this car would make an excellent hot rod".

It "bought it" as a V6, however, I found another mechanic who traded me some of the engine/parts from the Nova and for some extra $$$ he put in a 305. I got the car back with the V8 swap and it was a totally fun car. It wasn't blowing any doors off, however, was a lot of fun. It did have a few upgrades, RV cam, intake, and edelbrock 1406 carb. and Th350 trans w/shift kit. I took that wagon all over, went to several concerts at the gorge, and basically cruised all around seatown. After graduating college I moved up North and my fiance kinda didn't want the car around. I had a truck, well you know the rest....
Last edited: