Comic Book Super Hero
Thread starter
Fiddled with some tune stuff and took the car for a spin.
I THINK the spark smoothing that I turned off fixed my choppy idle when I am coasting in neutral. It seems better. My mid throttle low load high RPM limp mode issue also seems solved. The cruise not working is still an issue I need to work on.
In other news my aftercooler water temp circuit temp sensors work great! At at least with short bursts the heat exchanger is doing a good job. Post blower IAT crawls up to 115F on short pulls and the water temp going out of the aftercooler tops out at 78F while the post heat exchanger is rock solid at 62F. It was 60F outside tonight so that tells me the heat exchanger is pulling all of the ~20F of temp rise out of the water and the aftercooler in the intake is just not 100% keeping up, which is the only thing in the system I can't really do anything with.
Seeing fuel pressure is also nice. It doesn't move around as much as I thought. Maybe the regulator is sticky? I intended to target 4 BAR (60psi) but it sits at 70psi at idle, which is honestly like 20PSI high. It should be 60psi at atmospheric pressure, 50PSI at idle like 15 inches of vacuum, and 70psi at 10psi of boost. I do get 1:1 rise under boost, 10PSI of boost results in 80PSI of fuel pressure at first, but through 3rd gear it starts to drop. Possibly a wally 450 is running out of flow at 80psi with my flow requirements? You can see the plot on the green line in the 4th column my FP (psi) is 81 at the start of 3rd gear and trails down to 70psi at the end.
I did find out my stewart warner pressure gauge I set the fuel pressure with initially 4 years ago is off. I trust this sensor more than that old stewart warner gauge. I might toss my mechanical gauge on too to double check.
I'm not sure if I should fix my fuel pressure or leave it as is. The fuel map is kinda set for 70 psi base now, and changing it to 60 is going to screw it all up, but the fuel table is far from expertly calibrated by any means.
Oh and my timing is way conservative. 12 degrees on 10psi on E65 is laughable. It would probably be safe with 89 octane. Holdener ran 23 degrees on e85, 12 PSI on an M122 4.8 he tested a few months ago and the local tuning guy I want to hire said he would put 8+ in it without a second thought.
And it still annihilates the tires in 1st and 2nd gear without trying.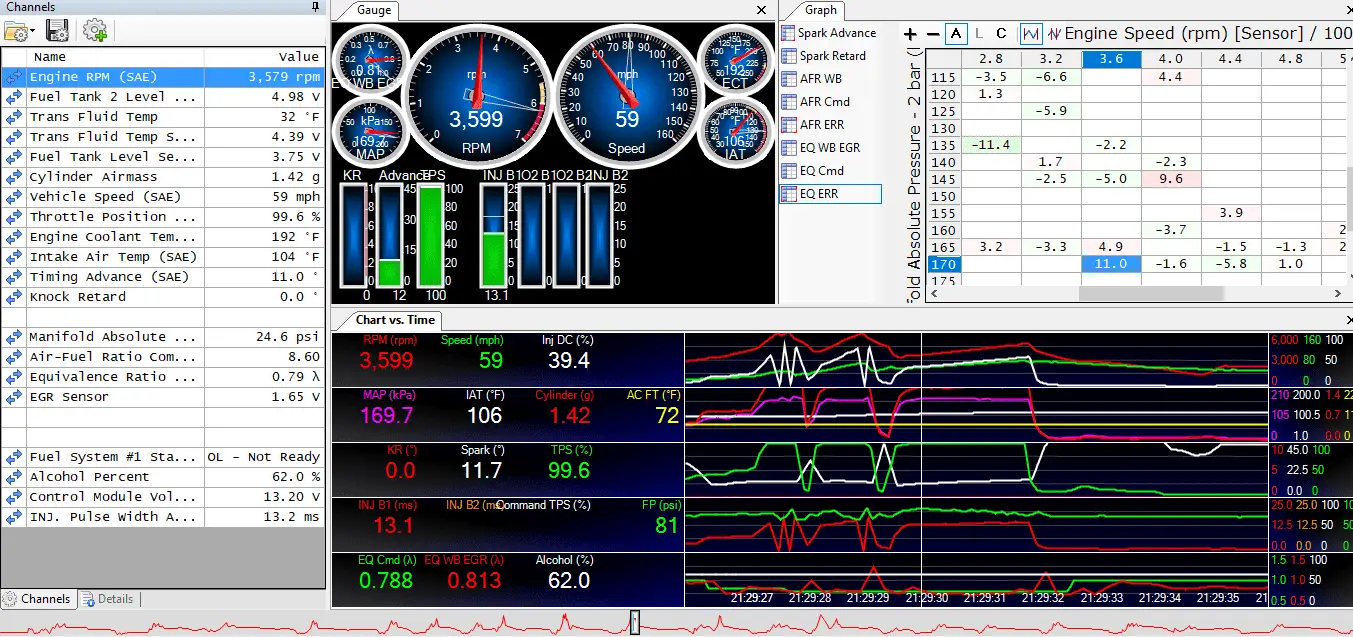 70