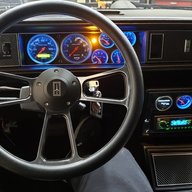 G body LS mafia
Supporting Member
Late Summer update!

Changed course on a couple things. Decided to consolidate and simplify some wiring and picked up the Dakota Digital RTX series gauges. I went with the

RTX-86C-MC-X.

I really dig the original/retro feel. Wiring was straight forward. Ended up troubleshooting the fuel gauge through all this and realized how gnarly the fuel sender setup was. Decided piece of mind can be expensive but worth it in the end so I ordered the Aeromotive Gen II stealth fuel tank

(18449)

. Got some Dynamat down while everything is still torn apart. Then the slope became slippery and I ordered up the Lokar sport shifter

(ESS66L90FM)

in place of The B&M Megashifter. Though the Megashifter was nice, it was not to be. It was a little too tall and I couldn't get it to shift smoothly with the 6L90

.

Installed the Lokar on the same shifter baseplate I fabbed up earlier. Wired the Ramcharger fans up to the PSI harness so the ECM can conrol them instead of the manual switch they came with. I did however retain the switch as an override since it's already integrated.

Quickie Video if the Dakota gauges (I'll get a better one up at some point)

Rudimentary wiring diagram I drew up for the Ramchargers to the PSI harness

Somewhere in between all this I decided to put it to the pavement to see how she sat. Probably a little low for the combination of a low trans pan and nasty Illinois roads. I'll have to scoot up the suspension a bit. Stance sure does look pretty though.

Next to my daily driver Legacy GT for reference

More to come!
Decent, some old school Ludacris jamming in the background!!! The Monte looks great man, hoping to start tackling interior in my Cutlass and get it to the same point soon.