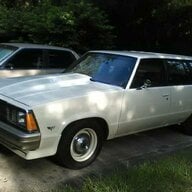 Rocket Powered Basset Hound
Oct 14, 2008
12,019
9,495
113
I did a small photoshop a little bit ago for what I would like to do for my front air dam.

View attachment 201402

The cut out area I have will be a bit smaller but the idea Is that I can have a bottom feed radiator while at the same time reducing drag on the under body. I've looked into making a body pan for some more efficient drag reduction and more down force but it doesn't seem like an easy task with these cars. Mostly because things just sit to low to make an under body pan not drag everywhere since this is a daily driver. So for now ill be making a front air dam with something that can bend if I scrape on something. (Maybe garden edging)

I'm doing all this instead of buying a fiberglass bumper/air dam combo because money of course and i would be afraid of cracking a fiberglass air dam after I do a paint job on the car. Also because I'm not the biggest fan of the one piece look.

As you guys were asking. Yes, I will be doing the rear bumper too because also not a fan of the one piece look of a roll pan. Ill probably be bugging LongRoof79 about how he did his because his rear bumper looks freaking awesome!

Also ordered some new LED headlights last night. The current ones have water in them and just aren't bright enough to be considered safe to me.
Nice design on the airdam. A tip for you, you can take it or leave it. Another option would be to use the rear window air deflector up front under the bumper using a few brackets. It doesn't look bad either. In fact I had it on my car at one point and then went back to the original air deflector and then back to the SS airdam. Btw, you're welcome to bug me all you want.
Here's my build thread.
https://gbodyforum.com/threads/working-on-the-wagon.33260/
Last edited: