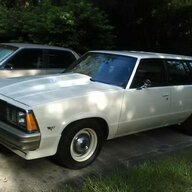 Oct 14, 2008
9,414
2,552
113
The reason I ask is, I'm having a starting issue with my alternate daily driver which is an '81 Mercury Capri 2.3 automatic.
Used the car one day, I made a few errands around town...the car started fine. I got home parked on the driveway. I later wanted to move the car. Got in, turned the key...it clicked once and the panel lights went out...no power.
I replaced the starter relay (solenoid) again....no difference. As soon as i connect the heavy lead to the starter or the ignition switch lead...the same problem. I've checked the battery and had it load tested...fine. I can jump the starter connecting the lead directly to the battery positive and it will spin the engine.
So, I ruled out the battery, starter and relay. The cables were replaced last year...they're all new. I went over the ground cable to the engine block...made sure the area was clean, tight and getting a good connection.
It seems as though I've been chasing my tail. Oh, and i even tried a new ignition switch...no difference.

To me it acts like there's a high resistance short somewhere in the system. The other thing I didn't try yet is the neutral safety switch. I know if the neutral switch is bad it won't allow the engine to turn over, but it won't disable the panel light, dome light, etc. It acts like a circuit breaker. I guess there could be a short in the electrical system.

I'd appreciate any input you guys could offer. Thanks!