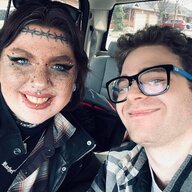 Apprentice
Thread starter
Search Facebook marketplace and find a good running but clapped out body vehicle. Express vans, suburbans, tahoes, caprices, road master, etc with good running 350 engines. Tbi or vortec 350 from about 1991 to 2002. Even high mileage 350s with fuel injection usually have little wear. Buy it and drive it over to do the engine swap.

I bought a 1994 suburban for $500. 250k+ miles. Ran good and didn't smoke or leak oil. Body and interior were wore out.
This is actually a really good idea.
Now i'm considering a swap, because you took into consideration my previous comment about getting it delivered, making an acquisition of a motor actually feasible. Because renting a vehicle, just to get a 350 for over $1000, that many sellers can't even prove they work, makes no sense money wise.
But if I can find a running vehicle, for a fair price and put a temp plate on it, to take it for an engine removal? I hadn't have considered that road. Mostly because, of the vehicle being certified if I intend to keep it, but on a parts car that's out of the question.
I will take a look at finding a TBI motor, with decent KM on it. Thank you very much, kind of excited to see about 350 options