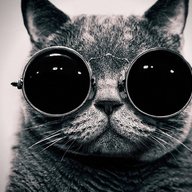 Comic Book Super Hero
Supporting Member
Feb 20, 2018
2,811
2,459
113
Some people's children, eh?

---

We've seen this chart kicking around for about 20 years.

View attachment 189250

The thing is it only accounts only for horsepower, not torque. Torque being the turbo V6's strong suit, and a very different animal than HP in the power band (air mass being moved). Theoretically a Buick V6 making double it's factory HP at 490hp is making double the torque at 710ft/lbs. That's a lot of exhaust. Diesel territory.

It also doesn't account for a cat, muffler, resonator, or bends. If 3.5" exhausts were common I'd suggest one of those in this application. But, they aren't. So for the weight/space penalty I am recommending a 4" over a 3" system to avoid any unnecessary restrictions downstream.

Also, no one brags about having a 2.25" pipe.
WE-ell, not so much about the brag factor but mostly because I work with small bore/displacement motors, so using a small diameter, i.e. 2.250 inch pipe is a no brainer because for me it keeps the exhaust velocity up and the fumes moving downstream. With headers, there is a certain amount of restriction inevitable when you neck down from the collector tube to the exhaust pipe but if you take it in incremental steps from the initial 3 inch to 2.5 to 2.25 then the constriction appears more gradually and any abrupt obstruction is more minimized over distance. I like small tube because it is also easier to stuff into tight places and make disappear so that a peek at the underbelly of the beast shows a clean profile. JUst me.
Nick