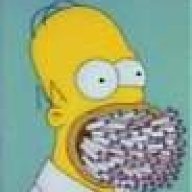 Apr 24, 2007
6,862
1,964
113
I'm starting this thread to show what it takes to swap from the depressing 231 Buick V6 to a proper Buick 350.

Hopefully this thread will be helpful to others who may be considering/performing this project themselves.
The basis for this project will be my 1981 Buick Century Estate Wagon that I bought in '09 with only 79K miles on it.
Unfortunately, it was overheated and spun a bearing. You should hear it knock, it's hilarious. :lol: It now has 95K on it.

These are old pics since I wasn't able to upload my new ones yet. Soon.
It's 100% complete, the cruise control even works. A/C is all there, but wasn't cold.
Not sure if I'll worry about that stuff of leave it for it's new owner... My main priority is getting it running and driving.
This is what the motor looked like before I pulled it out of my buddies '70 Skylark...

It's a, you guessed it, 1970 350 2-bbl, backed by a TH-350.
The previous owner said that he swapped to '72 heads to help with unleaded fuel, and retained the '70 intake and 2-Jet.
The TH-350 had leaked itself nearly dry, so I will be using another TH-350 that I have that I know works.
Since it had been sitting in Tucson, AZ for about 9 years without running, I took a few precautions to help my odds that the thing will run. I've gotten stuff going that had been sitting much longer, but it's always a good idea to cover your *ss.
Once the motor/trans was pulled, I separated the two and got the motor up on a stand and pulled all the accessories off.
I cleaned the motor up the best I could a.k.a. "extremely half-assed". In my defense, it was 95* out with humidity so high that the heat index was 115*, so I worked all nite since it was "cooler"... :lol:
With the layer of grunge scraped off, I pulled the spark plugs and poured a few ounces of ATF down into each cylinder before spinning it over several dozen times by hand.
Content with that, I drained the old oil and refilled it with clean oil and a new(ish) filter and removed the valve covers.
Next, I marked the positioning of the distributor and removed it to prime the oil system.
I made a brilliant priming tool using a short 15mm socket with a 3/8" washer hammered into it. I'm considering a patent.
With a 10" long 1/4" drive extension in my cordless drill, I cranked away as I watched the oil slowly come up each lifter.
Oil finally came out the last lifter just as the battery in my drill died.
I was happy with the results and reinstalled the distributor, drained the oil again and removed the oil pan to replace the gasket. Had I experienced any trouble with the oil pump earlier, I would have utilized this time to replace it. But with it seemingly working fine, I decided to let it be and just replace the pan gasket.
Inside looked good, and there wasn't any suprises laying in the bottom of the pan.
The previous owner also took the liberty of converting the distributor to HEI, so that saves me that trouble.
I have new wires and a cap, along with my choice of about a half a dozen coils to pick from laying around my garage... One is bound to work. New plugs and a rotor and I'm good there.
That's how the motor sits now, and as far as I'm concerned, it's ready to drop in.
I'll probably throw a new water pump on it as well as a fuel pump either before or after it goes in. Doesn't matter.
I'll have another buddy go thru the carb for me, and that should take care of most the the issues with the motor.
Next, I moved onto the car and started to disconnect the maze of vacuum hoses and wires, but grew tired of sweating my *ss off and called it a day.
Working nites and not having the car at my own place is killing the progress, but I have a long weekend coming up and am hoping to make some serious progress...
I'll keep updating this with new info and pictures as I can...
Any questions, comments or suggestions feel free to post.