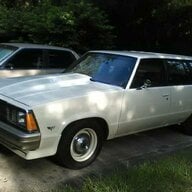 Rocket Powered Basset Hound
Oct 14, 2008
11,885
9,227
113
Jim,
I got to hand it to Scott. He's a man on a mission, and there's no stopping him. :lol: All kidding aside, I couldn't have done it without him. After a few mind reeling searches on the web, I would have probably given up, or settled for some ill fitting pieces.

My hatch seal is accessible, but my camera sucks bigtime. I'll try to take some pics of it. One seal that is next to impossible to find, would be the beltline seal across the top of the tailgate. Fortunately I have one that I found in the junkyard about a decade ago..along with the rear hatch seal, and window sweeps, which became hard and brittle over the years while in storage.
I don't particularly care for the original factory hatch seal design. The flaps, as you call them, seem to trap water, dead leaves,and muck, which has been responsible for the channel developing rust. From what I've found, the MOPAR seal actually seals, and works better than the OE seal.