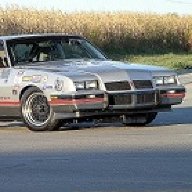 Sep 6, 2016
2,597
1,048
113
Look how the Hellcat closed the gap at the top end in the video above, big horsepower at work.
That was a Model X SUV. A Hellcat without drag radials and a perfect launch isn't going to catch a P100D even in a 1/2 mile. P100D's run the same 144 mph that a Hellcat does in the 1/2 mile. P100D's have the equivalent of over 700HP but even more torque than a hellcat.
The one car that can beat a P100D on the street is an
APR tuned Audi RS7
.
If I was rich and in the market for a $120K sedan, I would pick an RS7 over a Tesla. If I'm Going to have a $120K sedan, I want one I can drive from Dallas to DC or Miami in a day, not 3 days.
2

2