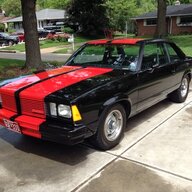 timo22
Master Mechanic
Supporting Member
Like a lot of guys here, I deleted the computer system on my Bonneville. I switched over the distributor but due to finances had to delay getting a non computer carb.
Well after trying to get my best deal , I stumbled across National Carburetors in Florida. The guy even let me send a hot air choke carb as a core.(Even though I was buying an electric choke carb). Put it on my Bonny and went from 12-13 MPG to 17-18 MPG without a hiccup in over a year.
So I just bought another one from them for my El Camino. As expected , the carb looked better than brand new and works flawlessly. These carbs go for 199.00 plus a 50.00 core and are warranted for two years. So anybody needing a rebuilt carb for their street car, these are the guys!

timo22
BTW , I forgot to mention ,idles great, accelerates crisply , and definitely more power.