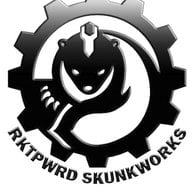 Builder of Cool Shjt
Supporting Member
Feb 2, 2015
3,982
22,430
113
One more reason why I don't like blasting. I know more than one person who have had panels destroyed by blasters.
To be fair though, the area in question is a high strength area with all those factory bends in it and will not be prone to any sort of distortion caused by a little spot blasting. The effects will be negligible. Large flat areas like a hood or quarter panel, most definitely. I still stand by my original recommendation, mess be dammed.
Messes can be cleaned up, good clean metal is forever. (Almost).
😅