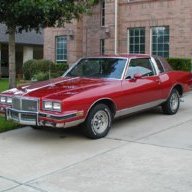 Texas82GP
Geezer
Supporting Member
My phone died so I had to get creative. Went over about noon today and sheeted it up to keep some of the dust off of it. Then it was time for work.

I can't stress enough how much I've been dreading this task. Nothing about it is enjoyable to me. Nothing.

I stripped the brake and clutch master and a couple small items off the firewall. Then I sanded down a portion of the lower valance and some of the inner fenders. After that, I started slinging mud, sand, mud, repeat.

It was just after this that my phone really started acting up.

When the shift was over it didn't look much different but I'd glazed the valance and primed it along with glazing the inner fenders. By that time I was just over it. Went home and pulled weeds.

Not sure when I'll get back over there but I have very little time in the next few weeks. At this rate summer will be over before it's ready for the market. I'd love to find the ******* who spray bombed under the hood and kick them square in the yam bag.
At least he didn't brush it with Rustoleum, like me.