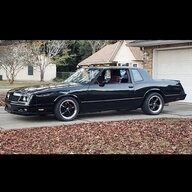 Built6spdMCSS
Greasemonkey
For those that hang out here and can use this, this is from my Facebook LSx GBODY page.
********THE PINNED POST.********
Putting the LS Engine in a Gbody can be done many different ways, there is no one set procedure or exact part numbers that I'm going to have here unless it's for a specific part. There are thousands of different parts out there for LS Swaps. This post is a GUIDELINE with a ton of information to help you get in the right direction and make it happen. I am not responsible for your technical abilities to be able to build a car, you need to have this knowledge on your own.
COMMON QUESTIONS THAT KEEP GETTING POSTED
RADIATOR & HOSES:
Many different Radiators will work with this swap, it doesn't need to be a fancy aftermarket one, there are factory radiators from multiple different vehicles that work for this. Any electric fan that fits on the Radiator will work and can be wired in.
For the Hoses measure out what you need and go to the store and see what fits, it's that simple. Use a coat hangar and get an idea. No set part number for "what works" because it depends on what Radiator you use.
ENGINE MOUNTS:
Many different mounts are available to mount an LS Engine into a Gbody, let alone any other car, truck, boat, airplane, and anything else. Given it's 2018 and the LS swap is pretty much the norm, every major aftermarket company has a kit of some sort. Hooker, Holley, BRP, Dirty Dingo, probably a dozen more and alot of little guys too..below is a link that is a google link showing you how to search for them. If you don't know how to use google, this will show you:
http://lmgtfy.com/?q=ls+engine+motor+mounts
TRANSMISSIONS:
Pretty much any older GM automatic and some manual Transmissions fit in the Gbody behind the LS Engine. The 4L80E fits in the tunnel when you cut the ears off of the case, both sides. You need a 32 Spline Slip Yoke and the proper FULLY SPLINED 2wd Output Shaft for it to work correctly. The T56 6spd Manuals fit with a little tunnel work and cutting the hole for the shifter. The 6spd Auto (6L80E/6L90E) needs major tunnel work to fit. Driveshaft length depends on the setup, measure it.
TRANSMISSION MOUNTING:
The older Transmissions (TH350, TH400, 700R4, early 4L60 & 4L60E, 2004R) WILL bolt to an LS Engine, the easiest way is to use the factory GM Flexplate & Spacer from the 1999-up GM Vehicles that have the 4L80E in it. Just oval out 3 of the holes to match the Convertor bolt pattern on the older transmission. 4L80E is a direct bolt up with these parts..before anyone asks. Look in the comments of this post for further info.
TRANSMISSION CROSSMEMBER:
Many companies make these now, search for them (google). Some are direct bolt in, some are not. Think outside the box here and make it work if need be, or build your own. You are putting an engine and transmission in a car that did not come with it from the factory. Some stuff may not line up directly so troubleshoot it and see if you can make it work by possibly drilling more holes in the frame or slotting the crossmember.
DRIVESHAFT:
Depending on what mounts you use the stock one may work. Stock one is 30+ years old and not rated for the power that some of these engines make stock. If you want to run the stock one and it slings it breaking parts, that's on you. I would have a drive shaft custom made, it's not much money to get a good one and have a smooth ride. Make sure you measure correctly to get the correct driveshaft.
HEADERS:
Several companies make a set of Headers that will fit a LS swapped Gbody, search for them(google). LS Fbody Headers WILL WORK with little modification to the drivers side collector, pics in comments below.
OIL PAN:
The most commonly used Oil Pan is the GM Muscle Car Pan, also known as the H3 Oil Pan, GM Part number 19212593. People have also used the LS1 Fbody Pan, and CTSV Pan for good fitment. The Holley Swap Pan also works and works the best for clearance.
THROTTLE CABLE:
Stock factory Truck Throttle Cable works from the 1999-2003 Cable V8 Iron LS Engine trucks, before they went drive by wire. Bend the gas pedal in the car to make sure it moves the throttle body correctly. Make sure you use the proper cable stop with the plastic clip on the gas pedal side in the car.
For the DBW setups you will need the correct TAC Module, PCM, and Electronic Pedal. Some PCM's can run both, here is some info to go from DBW to DBC:
http://lt1swap.com/cable_conversion.htm
FUEL SYSTEM:
Common used is the GM Factory Gbody EFI Tanks & Sending Units, this will be from a Grand National, 1986-up Monte Carlo V6 TBI, Buick T Type, 1986-up El Camino V6 TBI for the El Caminos, or any of the aftermarket companies selling these. Rock Auto sells them. I suggest an in tank pump. Some people use external pumps on the factory tanks, you need to have a sump and plumb it correctly. Depending on what Fuel Rails you use (regulated/non-regulated) you may need to use the 1999-2004 C5 Corvette Fuel Filter/Regulator or another regulator that does the same to make the system have at least 58psi at the rails. Stock fuel lines on the Gbody WILL work, 3/8" feed, EVAP 5/16" converted to the return, and the 1/4" at the sending unit as the vent. You will need to modify the sending unit if using an in tank pump, the build threads below have information on this.
GAUGES:
Stock Gbody Gauges will work with LS Sending Units.
Fuel gauge and Volt gauge are in the car wiring and works.
Oil pressure: hook up the Sending Unit from the Engine to the wire for the gauge in the cluster.
Tach: wire PCM Red/Green Pin 10 in the LS Engine Harness to the Tach in the Cluster, set the pulse correctly in the tune.
Water Temp: You need 1998 3-wire Temp Sensor GM Part # 12551708, wire Pin C to the Temp gauge in the cluster.
Speedometer: if using an electronic transmission, convert the speedo gauge in the cluster to electronic. Wire the VSS from Red/Green Pin 50 in the LS Engine Harness, can be calibrated correctly in the tune.
Monte Carlo SS Electric Speedo Conversion thread:
https://gbodyforum.com/threads/electronic-speedo-conversion-pic-heavy.60194/
WIRING INFORMATION can be found here:
http://www.lt1swap.com/wiringharness.htm
Use that page to find your harness and build what you need.
Factory GM Truck Intake and Alternator WILL FIT under the factory hood of a Gbody depending on the mounts used...there are dozens of builds on the page that show this. Search for them.
TRUCK SMALLER POWER STEERING PULLEY: DORMAN 300-201, 300-202 is the metal pulley.
Some very good LS info here:
https://www.nookandtranny.com/Info_LSx.php
----------This is what I used to build my 1984 SS ----------
Engine is a 2006 6.0l LQ4 from a Chevy 2500 Van. I used LS1 Fbody Accessories with LS1 Fbody Power Steering Hoses, LT1 Fbody Radiator and Fans. Hoses are what I found on the shelf to fit. LS6 Intake with LS6 Injectors & Rails. GM 243 Heads, Thunder Racing Custom Cam. Transmission is a Built T56 6spd with LS7 Clutch Kit. This setup makes over 500hp, and the Clutch will not hold this at higher RPM, just a heads up for those that want to use the same Clutch and make the same power.
Harness is from a 1999 LS1 Camaro Z28 that I rewired for the car, I installed a 1998 Camaro Fuse Box and wired it into the car. I'm using a 2002 LS1 Fbody 0411 PCM.
GM Muscle Car Oil Pan Kit, also known as the H3 Oil Pan Kit. Part number 19212593
Stock Clamshells bolted to the 1" NON Setback Adapter Plates. These are the plates that directly bolt up. Pads on the cradle are in the stock location.
Heddman/BRP 45036 1 7/8" Primary, 3" Collector Long Tube Headers, LS Gbody Swap Headers, fit perfect.
Transmission Crossmember is the Jegs Double Hump for a 700R4, I used it to mount a T56 and a 4L80E in my car. It was NOT a direct bolt-in, I made it work.
Gbody EFI Fuel Tank & EFI Sending Unit from Rock Auto, Walbro 255 Fuel Pump, Corvette Filter/Regulator.
Stock converted 1988 MCSS Gauges.
Build thread:
https://ls1tech.com/forums/conversions-hybrids/1874187-1984-monte-carlo-ss-6-0l-built-t56-6spd-swap.html
https://gbodyforum.com/threads/1984-monte-carlo-ss-6-0l-built-t56-6spd-swap.64321/
Build video:
T56 6spd install into a Gbody:
https://gbodyforum.com/threads/t56-6spd-manual-transmisson-install-into-a-gbody.60659/
Those threads have plenty of information for you to research, lots of pictures and things explained.
FORD 8.8 REAR INSTALLED INTO A GBODY
http://www.hotrod.com/articles/how-to-swap-ford-rear-into-a-gm-g-body/
Last edited: