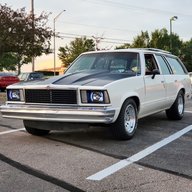 Reddzedd
Not-quite-so-new-guy
I've come across the usual AR Outlaw IIs and think that's the wheel I want to go with. I'm able to find the right bolt pattern and rim dimensions, but can only find 3.75" backspacing for the 15x7 and 15x8 rims. Will this also work? If not, is there a work around for the backspacing?

I should also add the 15x8s have -19mm offset, and the 15x7s have -6mm of offset.

If I understand correctly, does that put the front combined backspacing at 4", and the rears at 4.5"?
Last edited: