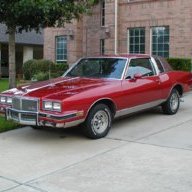 Just-a-worm
Supporting Member
Thread starter
I finally went through the entire thread.

Attention to detail and care on the underhood, floors, and basically anything you touch is superb. I'm too impatient to make everything that perfect lol.

I never knew GP's had the opera light option like yours does until I saw a 83ish GP at the salvage yard last week and your car had them.

Have you seen any other GP's with those opera lights? When do they come on?
Hey, thanks for the interest and the kind words. I'm always impressed at your fabrication and machining skills. I think the Opera Lights are trim thing. I think my car has them because it is a Brougham. This is pure speculation. It doesn't appear to be a Landau top thing because I've seen cars with Landau tops that didn't have Opera Lights. If you look at the car I posted a few messages above, which I believe my car was originally painted the same color and has the same color top, that car doesn't appear to be a high trim level car. I has a landau top but doesn't have the Opera Lights. Another trim oddity on these cars is the lower rocker trim. That's the black trim under the bright trim on the door. Some cars have it and some don't. I've had some members on here send me pics of low trim level cars that had that trim, like mine and Brougham cars that didn't.
The opera lights come on when the park lights and or headlights are on. Mine are functional. They're not very bright. Just a really formal accent. I drove the car home from work a few times in late 2014, after sunset, and I'm guessing the sight of those opera lights shining with the car going down the freeway was fairly unusual for the modern day and age.