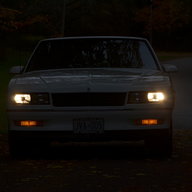 ed1948
Royal Smart Person
Rebuilt starter, roughly a month old - stopped working, now works again.
Re: 2006 GM Sierra Z71 4x4
I installed a rebuilt starter to correct a weak solenoid (no click) issue. Battery is new, ground wires were all re done, 12 V wire to starter is good. Rebuilt starter has about 30 start cycles.
Last week I drove in a snow storm where temps were 10*F and then parked the truck outside overnight. Next morning all I heard was click - no starter action. I repeated the start attempt 20 times. Battery voltage was 12.1V. Even with a booster pack it would do no more than a single click. Next morning when the temperature was again 5 -8*F I again tried to start - first was click, second the starter turned and the engine started. Since then, in order to test it, I removed the fuel pump relay and so far, have cranked it around 40 times without failure.
The starter is still under warranty and can exchange it without problems.
The question: Can I assume it may have been a fluke the starter refused to crank and it will work from now? Or should I just exchange it(I hate working outside in the cold weather) and spend an hour of my time screwing in a newly rebuilt unit?
Pic of the original starter....
\