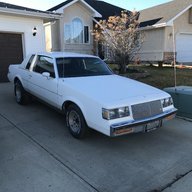 Oct 24, 2017
3,359
12,817
113
Oh im ordering a *ss ton extra!

I did wonder if i should run pre and post intercooler air sensors. Would be a good comparison of how efficient the brick is.

For the MAP sensor, i think im going to use a block so that i can have everything branch off from it. Ill use a pressure transducer style MAP sensor more than likely.
I have the Lowdollar sensor block and would recommend it, but plumbing lines for everything is annoying. I went with the LS3 style 4 bar map and think a 5 bar in the sensor block would be a much better plan if I was to do it again. But I do like to spend $50 to save a nickle, because I have much to learn. Lol
Are you going to wire in knock sensors? I did because why not? They are already there.
I also did a pressure sensor pre-intercooler for efficiency reasons. Maybe an idea for you.
I have fuel pressure at the return side of the regulator and the outlet of my MF 4303, for data acquisition reasons.