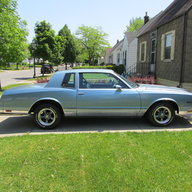 G-Body Guru
Thread starter
That's what I'm talking about. Sponsors getting involved. Way to step up Cold Case.
Well let's pump the brakes here. On Thursday(9/16) I talked to them and it was all easy breazy. "Pleny of those in stock. Probably shipping out tomorrow. You'll see a charge on your card. Make sure to check your junk email folder for the 'Quantum View' notification for shipping. It'll be there quick because you're just up in Buffalo".
So I check all day friday, nothing. I check all day monday, nothing. I call them at the end of business monday and this same guy John is getting snippy with me and doing and about face. "I HAVE NO CONTROL OVER SHIPPING." And a list of other excuses and odd statements. So as of business close today, 5 days later I still have nothing. No charge, no shipping.