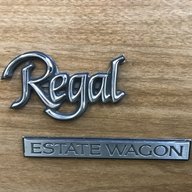 Nov 12, 2017
1,399
1,214
113
Well...It was just a matter of time before I broke something...And it didn't take long. I'm afraid it may be one of those "needle in a haystack" parts. Was unloading some of the cargo that came along with the wagon.
As I mentioned, the rear glass struts are shot, so I scrounged around the garage and found a trim piece. It was a little on the long side, but I used it anyway. I made the fatal mistake of propping it on the plastic filler panel between the bumper and tailgate.
A few minutes later, the glass fell, and the wood piece clanked to the ground. I was horrified to see what had happened. Not so much for the amount of damage, but the realization of how hard to find certain parts are. Again, if anyone knows where I could source one of these, or have any tricks for repairing it, let me know.
1983 Buick Regal Wagon rear bumper filler panel damage.