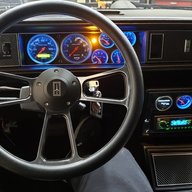 Injectedcutty
Geezer
Supporting Member
Alright guys, finally at the stage where I'm contemplating on how to rebuild the rearend in the Cutlass. I have one of the desired 8.5" from a 442 that currently has stock axles, a Richmond powertrax posi and the stock 3:73's. The posi makes some odd noises at low speeds due to a bent axle issue that occured when I acquired the 8.5
I'm not interested in getting a 9" since I know with the proper parts my 8.5" will be strong enough for what I throw at it.
Here is a list of parts that it needs. Any advice on ring and pinion brand is appreciated. I don't mind spending a few hundred on quality gears if the reputation backs it up. Also, forged pinion yokes....I already have a conversion U joint in the driveshaft, just need a new 1350 joint and associated pinion yoke. Quick performance has their brand forged yoke for only $70....seems like a smoking deal if it's strong.
Thanks in advance guys, and I'll update this as needed once parts are acquired and/or installed.