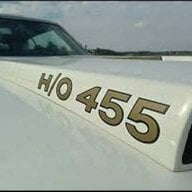 Jan 2, 2006
7,708
16,150
113
Well, now. Will I'll be the first 2023 post to show what I bought for my G-body?
I randomly piddle through ebay sometimes just looking and "browsing" to kill some time mostly when I'm on the interwebs.
Look at me, I'm just browsing!
I had mentioned this in previous threads, sometimes the prices are a tad high for stuff that you trip up on until you realize they are made out of unobtanium. Then it's not as horrible. Because if you don't want to pay it, someone else will.
It happened to me in the form of Code 79 Claret factory-style floor mats. Not just the fronts, or the rears, but the entire set! I was cruising along just "browsing" and saw Claret floor mats. Thought, would be nice if they were for a G-body. Checked the part numbers and sure as sh*t. A tad more pricey than I would have liked, obviously, but for a complete set of 4, that doesn't just fall out of the sky. And overall, they weren't terribly pricey for what they are considering availability, or lack thereof.
They're dead ringer replacements for the ones that came in the trunk when the car was new, rubber nubbies on the back of the front ones, and rubbery ridges on the back of the rear ones. Plus the rubber extension for the area around the gas pedal. GM sold accessory carpeted mats across the counter under the Goodwrench label, but they weren't factory style. Nice, but not exact. They also had rubber floor mats that you could buy through the accessories.
But these? Unobtanium. Pleased as punch to get them.