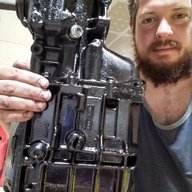 Pendejo
Supporting Member
Okay, so I have an 83 Regal with a vortec head 350sbc, the car has a 5 speed manual transmission using the factory mechanical linkage. I have Hedman 68310 headers... And I hate them...

They leak a lot. They're warped terribly I've tried everything short of having them resurfaced, they visibly look too warped to bother trying to get them resurfaced. They even seem to be leaking at the ball and socket flanges.

At this point I'm willing to sacrifice a little power and sound to not hear multiple annoying ticks the entire time I'm driving.

What would be my best option for a factory manifold? I'm just scared of trying another set of headers and there's not that many options with the z bar clutch linkage to begin with.