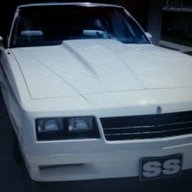 FastCraig
Master Mechanic
I am planning, starting next spring, on swapping my 355/TH350 for a 6.0/4L80E and have been researching what my cost would be. I already have the donor vehicle and the engine and trans both run very good with 80K on them. With a worst case scenario where the engine and trans would need a complete rebuild this is what I came up with. These are retail prices on new parts. However, I don't anticipate the price to fluctuate more than a grand either direction. This price list also doesn't include any labor or assembly costs. I didn't go with any Ebay Chinese parts either.
Hooker full length Blackheart ceramic header swap kit. Now $1473.88...…..Was $1350.99.
07 4L80 trans, rebuilt $1000.00
PATC Power Raptor 2800 stall converter. $465.00.
Summit
Level 1 SUM-8714 Stage 4 Vortec Truck Swap Cam and Beehive spring kit: 226/230 112 +4, .545/.545 $393.17
TCI shifter cable. $69.00
Trick Flow VVT delete kit $209.99
TOTAL. $3411.04
Machine shop head work, cleaned, shaved valves, mild porting, milled heads, drilled 5 broken studs, ARP bolts, gaskets = $700
New 16" electric fan, 28 row 10AN trans cooler -w- 7" fan, $125
Lingenfelter Conversion box...……….$274
Wideband 02 UEGO kit.....$160
92MM throttle body with sensors...…$75 (temporary, upgrade manifold later)
Set of Rally wheels, 15x10 & 15x8 with Gunmetal acorn locking lugnuts...…..$350
Rear control arms, UMI & UPR...….$350
Rear shocks Gabriel ……….$85
Radiator cover for electric fan...…..$59
Air filter, oval...………$40
One window racer...…..$149
2nd Total = $2367
Last edited: