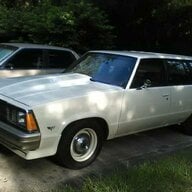 Rocket Powered Basset Hound
If you need a bolt on solution I have a nice 800 CFM Q jet from my 403.
Doug,
I was successful rebuilding the smallblock Q-jet that you sold me awhile back. It turns out, according to the model #, it came off of a 400 sbc. I also rebushed the primary throttle shaft. It runs like a top. and out performs the Holley that was on there previously. Thanks again.